This Site is best viewed in 800 x 600 pixels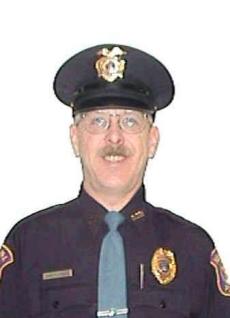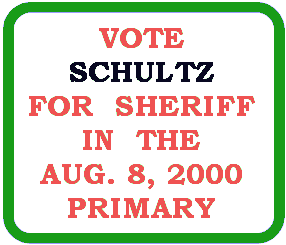 IN THE AUG 8, 2000 PRIMARY
FOR OCEANA COUNTY SHERIFF
VOTE REPUBLICAN AUGUST 8, 2000
---
VOTE FOR OCEANA COUNTY SHERIFF
IN THE AUG 8, 2000 PRIMARY
AND HELP MAKE THE DIFFERENCE.
---
Send This Site to a Friend!
ROGER (CHUCK) SCHULTZ
FOR SHERIFF
Help bring Proven Experience and Leadership to Oceana County
16 years Police service in Oceana County
We can make Oceana County a Safer and Better place to live and raise our Families
Help ensure strong Family values within our Communities, and County
Devoted Family Man - Married 12 Years with 2 Children
I will work for a better relationship with the citizens of Oceana County and
make a good Sheriff's Department even better.
I will work for a better Sheriff's Department by:
Being the PEOPLE'S Sheriff - I would keep an open mind to your comments, and

get all department personnel to work together.

Work on all concerns, complaints and problems, within and outside the department.

You're to
Sign my Guest Book,
and leave me a message!

(NOTE: Because I subscribe to a Guest Book service,
if they are down for maintenance or any other reason,
you may not be able to sign my Guest Book. But
please feel free to return at a later time, and sign it.)

MY INFORMATION
*****************************
INTERESTING SITES TO VISIT

Click here to

with a comment .
If you are , but want to be, go to the City, Village or Township office where you live to register or you may also register at any Secretary of State office. The last date to register for the Aug 8, 2000 primary election is July 10, 2000 and for the Nov 7, 2000 General Election is Oct 10, 2000.
Updated: June 3, 2000